At Twin Palms Chiropractic, we take great pride in providing the finest chiropractic wellness care to our patients. Below is a sampling of the different chiropractic services we offer in our Venice office.
To skip to the service you desire more information on, click the link/s below and it will take you to the appropriate healthcare section:
---

Chiropractic Care
We provide advanced spinal correction utilizing "state of the art" chiropractic techniques. Never in the history of chiropractic have we been able to provide the level of help and expertise that now exists. These newer correction methods are even safer, more comfortable and more effective than ever before. As a Doctor of Chiropractic, Dr. Busch, Dr. Romanski, Dr. Carrano and Dr. Edmonds have years of training and experience in spinal adjustment.
How Will Our Doctors Adjust and Care for You?
Our Doctors are accomplished at many techniques from traditional "hands on" adjusting to a very gentle light force instrument known as the "Activator". Spinal adjustments are the cornerstone of the chiropractic health care industry and the goal for each of our patients is to restore proper movement and function of your spine and joints. There are 132 joints in your spine and when they are not moving properly they affect the surrounding tissues and spinal nerves which cause inflammation, decreased function and pain where nerves extend to.
During the report of findings we will go over the results of any x-rays and tests to determine where the problems are and make the necessary adjustments with any of several different techniques (as described below) in order to restore proper function and healing.
Manual Full Spine Hands on Adjustments: Chiropractic adjustments started with hands on manipulation which is usually pain free and very productive at restoring spinal joints to their proper function. This technique involves a gentle but firm pressure to an area and restores it to its original and natural position.
Activator: A hand held low force instrument used to help restore spinal balance in a safe and comfortable manner.
Cox Flexion Decompression: A technique used for the lower spine (Lumbar) which uses a special table to pull the bulging disc(s) away from the spinal cord.
Arthro Stim: Electronic handheld spring floating device used to deliver a percussive force by increasing or decreasing pressure to align the spine, extremities and joints.
Sacro-Occipital Technique: A series of different size blocks used to properly align the spine using no force.
Thompson Drop Technique: A spring loaded table used to move certain spinal segments that will help improve the areas being adjusted without additional force being used.

Intersegmental Traction Table, AKA "The Rolling Table":

Gently reestablishing the normal ranges of the spine, intersegmental traction tables are also used to help bring about muscle relaxation and the reduction of muscle spasms. Using a dual roller which moves up and down, the muscles on either side of the spine are stimulated. Extremely relaxing, the "rolling table" works wonders for healing.
Recently some media attention has been given to certain risks that come from chiropractic neck manipulation techniques. We hope the following info graph puts some of those concerns to rest, but if you still have questions about the safety of any technique we use, please do ask. Your safety and comfort level with our services is our #1 priority.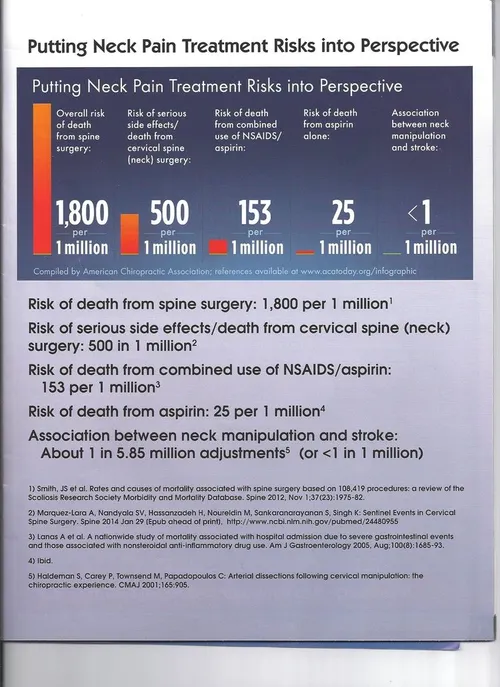 ---
We teach our patients special "blueprint" exercises designed just for them to help strengthen and correct their own unique problem. These exercises can be performed in the comfort of your own home and can improve the effectiveness of your spinal correction by as much as 30-40%. In addition to skeletal misalignment, muscles and connective tissues can be out of place or strained by improper alignment and use. Specific exercises and stretches can help your body stay in balance and in health.
---

We often find it helpful to "coach" our patients on certain activities they should avoid or do differently to avoid aggravating their particular health challenge. Our goal is to help every patient achieve a fulfilling and happy lifestyle full of the activities they enjoy most. We recognize that each patient is a whole person, and to reach true health and wellness is a collaborate effort between our professionals and our patients.
---

Additional Services Available
Chiropractors use many different treatments to help you heal your body and to get you on the right track for a healthy and pain-free lifestyle. We offer different therapies to help you with treatments and to help your doctor easily and comfortably deliver chiropractic adjustments needed such as:
EMS(Electro-Muscle Stimulation): EMS is a popular, effective, and safe method for of muscle stimulation. It is used for sports training, muscle atrophy or injury rehabilitation, and for cosmetic appearance improvement of muscles. EMS works by generating impulses of current which are delivered through electrodes directly onto the skin the proximity of the muscle to be stimulated. By mimicking the normal impulses created via the central nervous system, EMS causes muscles to contract, thus generating muscle memory and use. Electro-Muscle Stimulation has been cited often in recent years by sport scientists, trainers, and coaches as a complimentary technique for traditional sports training.
Ultrasound: A form of deep heat therapy which is used to speed up the healing process by relaxing muscle spasms, increasing the blood flow, to help in massaging damage to tissues when the high frequency sound waves are administered to a particular area.
Foot Detox and Cleanse: Help cleanse your body of unwanted toxins and lower the acidity of your body with this relaxing technique!

Ice and Heat Therapy: Cryo-therapy (cold) is used for swelling, inflammation and to treat many painful conditions after injury. Heat is used to increase circulation and relax muscles. Sometimes heat and ice are used together depending on the condition of the patient.
---
Cold Laser treatment, also known as "low-level-laser-therapy", or "LLLT", is a form of pain therapy that is administered by a qualified therapist or doctor. Typical uses include treatment for back pain, muscle spasms, arthritis pain, elbow pain, muscle strain, and many other conditions.
Patient Benefits of Cold Laser Treatment include the following:
Non-Invasive

Safe and Side Effect Free

Treats a Wide Range of Conditions

No Anesthetics Required

Relieves Pain and Stiffness

Proven Results

Restored Mobility and Quality of Life

May work as preventative therapy making surgical interventions unnecessary

Enables Patients to start therapeutic exercise faster
If you are ready to move forward, or have additional questions, Contact Us Today!
Learn More about Cold Laser Treatment by watching the following video
There are many more benefits to "Cold Laser Treatment", and we suggest you call for a consultation or appointment. You may also check out the following link for more information from one of our suppliers:
---
Nutritional and Diet Counseling/ Lifestyle Modifications: A poor diet will contribute to many illnesses such as; cancer, stroke or heart disease just to name a few. Our nutritional consultant can help you design a nutritional program that is specific for your needs. It will help get on the right track and help you maintain a healthy lifestyle. The lifestyle choices you make daily will affect your long term health. Health problems occur over time due to your lifestyle choices that have negative repercussions to your health such as: poor diet, poor posture, alcohol consumption, smoking, lack of exercise and excessive use of medications. Our Doctors will help you manage lifestyle choices and identify unhealthy habits and provide direction to help you manage your "New" Lifestyle changes.
We provide specific recommendations on nutritional supplements and healthy food choices to enhance our patients return to optimal health. Do you know which supplements and vitamins are good for you? Our nutritional consultant can provide a structured nutritional program based on your individual needs.
---

Posture and spinal screenings can reveal important health information and unlock the door to improved health and well-being. We provide screenings at area malls, community events, health fairs and places of employment. Contact us today to arrange a screening at your event or workplace.
---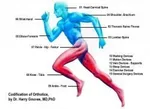 We will prescribe orthotics to patients for various symptoms. Many medical conditions often stem from a biomechanical gait abnormality that can be treated with custom orthotics.
Who Needs Custom Orthotics? The symptoms of poor foot mechanics can include any one of the following:
Localized foot pain

Bunions, hammer toes

Arch/heel pain

Leg/knee pain

Hip or back pain - even neck pain
Click here for more information on how orthotics can help you: The Orthotic Group
---

Click on the following links to learn more about our massage therapy services and to Read more about our Massage Therapists
______________________________________________________________________________________________
We accept: Visa/ Mastercard/Discover
Gift Certificates Available